2015
IN AUSTRALIA
With his recent Best in Show at the Airedale Terrier Club of Victoria Ch Oldiron Trivial Pursuit gave Oldiron Airedales our 50th Airedale Terrier Specialty win, 42 in Australia, 7 in the USA and 1 in England.
Quiz (Ch Oldiron Trivial Pursuit) still not two years old won the first two Airedale Terrier Specialties of 2015, giving Oldiron our 41st and 42nd Specialty Best in Show wins in Australia. At Easter Quiz was Best in Show at The Airedale Terrier Association of NSW Championship Show under Manuel Queijeiro from Mexico. On the Queens Birthday weekend again went Best in Show at the Airedale Terrier Club of Victoria under breed specialist April Clyde (Longvue) from the USA. At the Canberra Royal in Februrary Quiz was awarded Best of Breed by Patricia Craig-Trotter of the USA.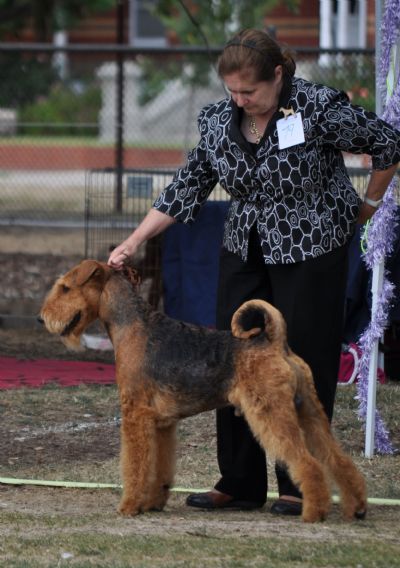 Quiz (Ch Oldiron Trivial Pursuit)
2014
MILLIE IS THE FIRST AUSTRALIAN AIREDALE TO BECOME AN ENGLISH CHAMPION AND THE FIRST TO WIN A BEST IN SHOW AT A UK AIREDALE CLUB CHAMPIONSHIP SHOW.
TORCH IS THE FIRST AUSTRALIAN AIREDALE TO WIN A CHALLENGE IN THE UK, SIRE A UK LITTER AND AN ENGLISH CHAMPION.
IN THE UK
At the South of England Airedale Terrier Club Championship Show Millie became an English Champion when she went Best in show, the first Australian bred Airedale to gain her UK championship. She was prepared by John and handled by Deb Ryan.
At Southern Counties Championship Show Torch became the first Australian bred airedale to win a challenge in the United Kingdom. Millie went one better at Richmond (UK) when she was Best of Breed handled by John Averis. Millie has continued her show career with John and Jitka in England,Torch has returned to Australia.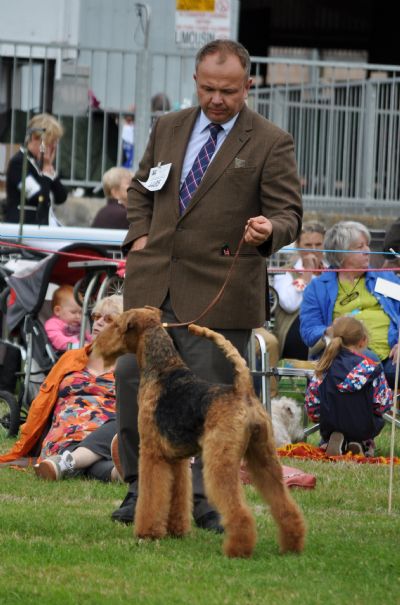 Millie with John Averis at Welsh Kennel Club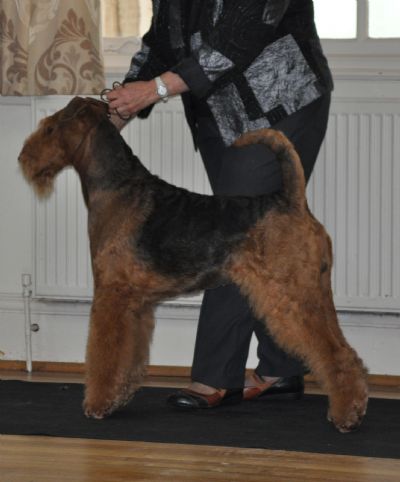 Torch and Anne at South of England ATC
IN JAPAN
GINNIE BECOMES THE FIRST AUSTRALIAN AIREDALE TO BE AN FCI JAPANESE CHAMPION.
Japanese Champion Oldiron At the Opera House (Ginnie) became not only the first Australian Airedale to gain her FCI Japanese Kennel Club Championship Title she also became the first Australian Airedale to win a Terrier Group First in Japan. Ginnie is a litter sister to English and Australian Champion Oldiron One in a Million (Millie) and Australian Champion Oldiron Fire Opal (Flame).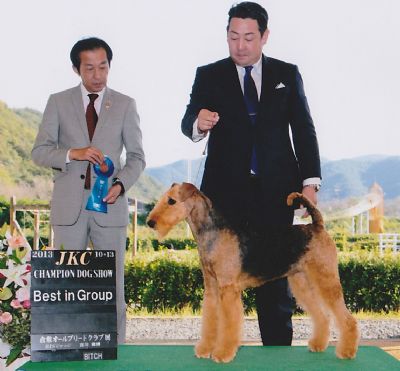 Ginnie (Oldiron At the Opera House)
IN EUROPE AND THE USA
WORLD SHOW PRELUDE SPECIALTY WINNER COMING TO OLDIRON AIREDALES
At the Finnish Airedale Terrier Club Championship Show that immediately preceeded this years World Show Anne awarded Best in Show to Est Etium Ore Uno (aka. Danya) who was owned, bred and handled by Julia Geller from Kiev in the Ukraine. Following extensive negotiations Julia agreed to let Danya continue his show career at Oldiron Airedales in Australia. Australian quarantine laws mean Danya will spend a minimum of six months in the USA.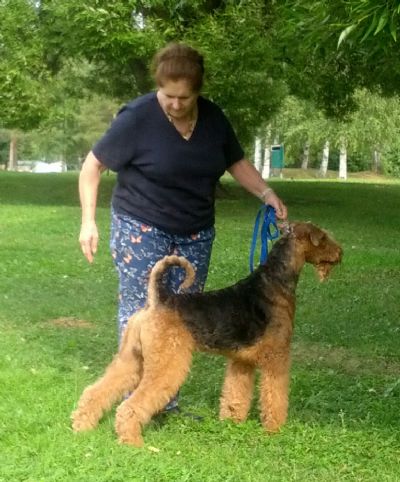 Danya (Est Etium Ore Uno)
IN AUSTRALIA
Quiz stars in the second half of 2014
At our first show in Australia for this year, 13 month old Quiz (Oldiron Trivial Pursuit) was Best of Breed at Adelaide Royal Show 2014, at his first ever show. In his first 12 shows Quiz, now 15 months, not only became a champion but he went BIS at the Jim Jones Memorial show at Castlemaine for his first all breeds BIS, to add to his 3 Group 1st's and 3 reserve in Groups.
ABOUT OLDIRON AIREDALES
Our current group of champion breeding dogs are all best or runner up in show winners at both airedale and all breeds shows. Oprah, Torch, Millie, Blanche and Boomer have also spent time at shows winning in Junior handler classes where the kids are judged rather than the dogs. The Airedales learn kids are much more fun and can handle them at important shows including Melbourne Royal Show
We do all appropriate health checks and of course our well fed Airedale babies are wormed, vaccinate and microchipped before they leave us. We give our Airedales their first trim free and are always available for help with grooming for showdogs. Before you even consider an Airedale for your family you must be sure you have TIME to spend with it.
We have had Oldiron Champions in six different countries and every state in Australia so sending healthy pups interstate is not a problem. We have a reputation to protect. American and Australian Champion Oldiron Margaret River became the Breed record holder (Biggest winning Airedale Ever) when she went to America. In Australia she was handled to many of her best wins including Top Victorian Terrier Puppy by 13 year old Claire Tyler.
We support Airenet, the tireless team that Rescue and Re-home Airedales in need. We intend that they should never be bothered with an Oldiron Airedale as we are happy to care for any of our dogs while we re-home them, if their owners should be unable to continue to care for them
17765 Visitors