OLDIRON SHOW HIGHLIGHTS 2023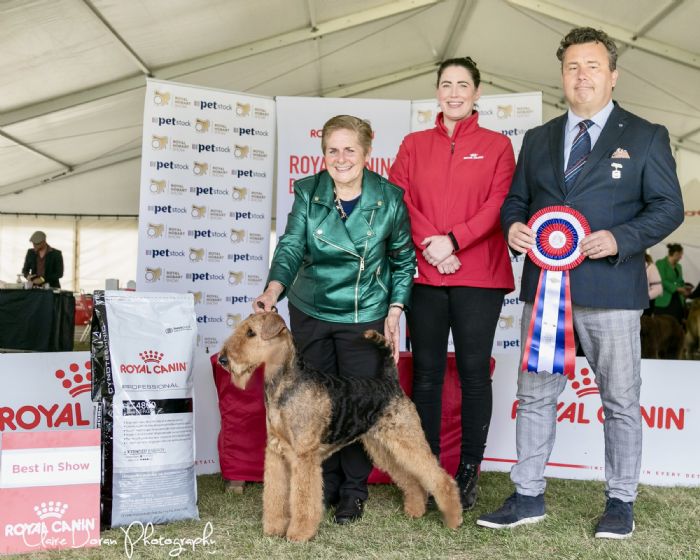 CHAMPION ''OLDIRON PITCH PERFECT'' WINS BEST IN SHOW AT HOBART ROYAL SHOW
Rebel is only the fourth Airedale ever to win Best In Show at a Royal Show. (Three were ours.)
She is now the SEVENTH STRAIGHT GENERATION OF ROYAL BEST TERRIER WINNERS, or better,
following her mum Supreme Australian & CIB Ch Oldiron Easy Peasy, Royal Best Terrier,
her dad, Supreme Australian & CIB Ch Oldiron Who's On First, Royal Best Terrier,
his dad Supreme Ch Oldiron Flame Thrower, Royal Best In Show 3rd,
his dad Champion Oldiron Grange Hermitage, Royal Best Terrier,
his dad Champion Oldiron Thorpedo, Royal Best In Show
and his dad Grand Champion Oldiron Just Awesome Royal Best In show 3rd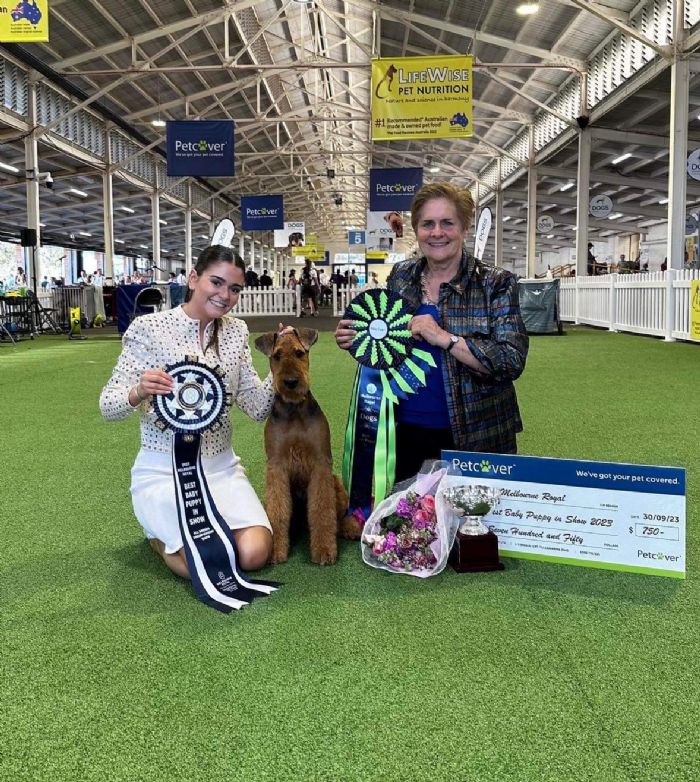 Our baby ''OLDIRON RAMPAGING ROY'' WINS BEST BABY PUPPY IN SHOW AT MELBOUNE ROYAL
handled by Hollie Mann
------------------------------------------------------
You are invited to visit us at Oldiron Park and meet all our Airedales to give them a hug or a ball game.
We do all appropriate health checks and breed from DNA tested ''Clear of PLN'' parents, hip scored fit for breeding. Of course our well fed Airedale babies are wormed, vaccinate and microchipped before they leave us. All we can do, we do.
We give our Airedales their first trim free and are always available for help with grooming for showdogs. An Airedale trimmed a couple of times a year will not shed hair and is great for people with allergies
You will be able to board your Airedale where our Airedales board.
We are available to give help and advice for he LIFE of your Airedale pup. Before you even consider an Airedale for your family you must be sure you have TIME to spend with it.
We have had Oldiron Champions in seven different countries and every state in Australia so sending healthy pups interstate is not a problem. We have a reputation to protect. American and Australian Champion Oldiron Margaret River became the Breed record holder (Biggest winning Airedale Ever) when she went to America. English and Australian Champion Oldiron One in a Million is the first and only Australian Airedale to get her English Champion title.
Dual Champion Oldiron It's Ben is the only Dual champion, winning at shows and obedience in Australia.
A great showdog wants to please it's owner. It is obedient. It tolerates all kinds of other dogs and all kinds of people and kids. It puts up with grooming, travelling and sleeping in strange places. It just wants to enjoy what you enjoy. The perfect temperament for a family pet!
We support Airenet, the tireless team that Rescue and Re-home Airedales in need. We intend that they should never be bothered with an Oldiron Airedale as we are happy to care for any of our dogs while we re-home them, if their owners should be unable to continue to care for them
SHOW RESULTS
2022
Kenny (Ch Oldiron King of the Road) started 2022 with Runner Up in the Terrier Group at Canberra Royal Show and then repeated this result at Sydney Royal. At Hobart Royal Kenny was again Runner Up in the Terrier Group. His show carreer from 35 shows to date has resulted in 2 All Breeds BIS, 7 R/U in Shows and 15 Terrier Group firsts and 3 Royal show Terrier Group seconds. Kenny has just had his second birthday.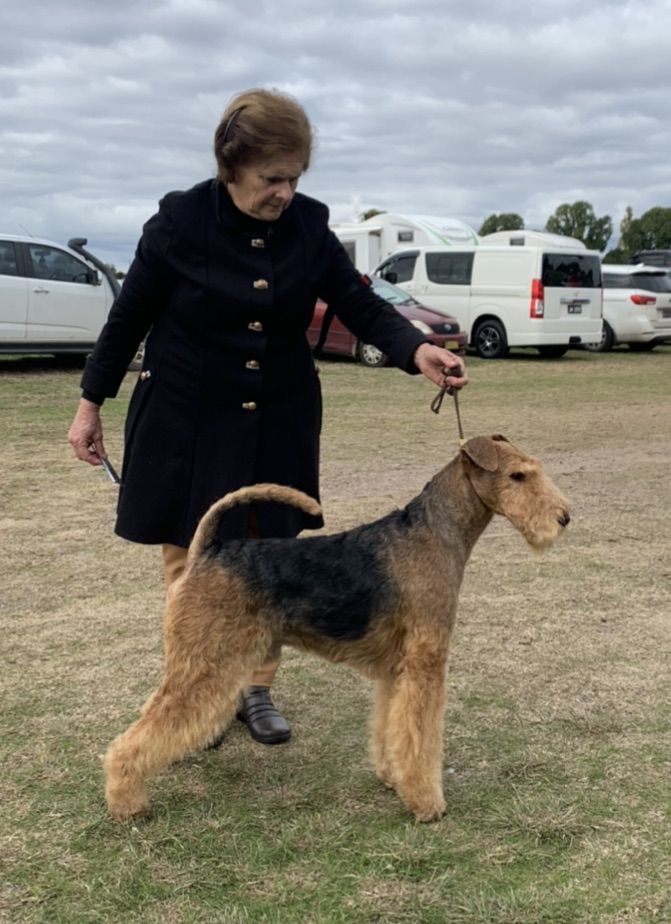 Supreme Champion Oldiron King of the Road - Kenny
Contact Details
Anne & Ron Sorraghan
St Andrews, VIC, Australia
Phone : 0417 331 603
Email :
[email protected]
55611 Visitors