ABOUT OLDIRON AIREDALES
Millie and Danya have 14 brand new, fat Airedale babies! She's given up her job as playmate and guard of the grandkids. She's just too busy. They will go home at 8 weeks of age. If you'd like to add one of Millies babies to your family, give us a call on 03 9710 1321 or 0417 331 603 so we can talk Airedales. I'll be at home bottle feeding to help.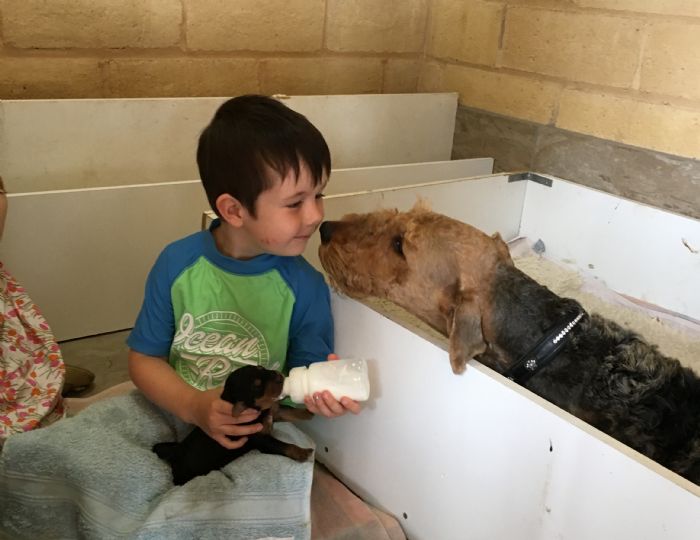 With 14 new babies Millies appreciates all the help she is getting from 5 year old Xavier.
You are invited to visit us at Oldiron Park and meet all our Airedales to give them a hug or a ball game.
We do all appropriate health checks and of course our well fed Airedale babies are wormed, vaccinate and microchipped before they leave us. All we can do, we do.
We give our Airedales their first trim free and are always available for help with grooming for showdogs. An Airedale trimmed a couple of times a year will not shed hair and is great for people with allergies
You will be able to board your Airedale where our Airedales board.
We are available to give help and advice for he LIFE of your Airedale pup. Before you even consider an Airedale for your family you must be sure you have TIME to spend with it.
We have had Oldiron Champions in six different countries and every state in Australia so sending healthy pups interstate is not a problem. We have a reputation to protect. American and Australian Champion Oldiron Margaret River became the Breed record holder (Biggest winning Airedale Ever) when she went to America. In Australia she was handled to many of her best wins including Top Victorian Terrier Puppy by 13 year old Claire Tyler. English and Australian Champion Oldiron One in a Million is the first and only Australian Airedale to get her English title.
Dual Champion Oldiron It's Ben is the only Dual champion, winning at shows and obedience in Australia.
A great showdog wants to please it's owner. It is obedient. It tolerates all kinds of other dogs and all kinds of people and kids. It puts up with grooming, travelling and sleeping in strange places. It just wants to enjoy what you enjoy. The perfect temperament for a family pet!
We support Airenet, the tireless team that Rescue and Re-home Airedales in need. We intend that they should never be bothered with an Oldiron Airedale as we are happy to care for any of our dogs while we re-home them, if their owners should be unable to continue to care for them
IN AUSTRALIA
After Melbourne Royal Show Danya finished the year with a further 4 All Breeds Best in Shows including Best in show at Hobart Royal. He added a second Royal Terrier Group by going Best Terrier at Perth Royal. He finished the year as No 1 Airedale in Australia, No1 Terrier in Victoria and No2 Terrier in Australia. His final tally of wins for 2016 was 6 Best in Shows, 10 Reserve in Shows, 32 Terrier group 1st, and 17 Terrier group 2nds.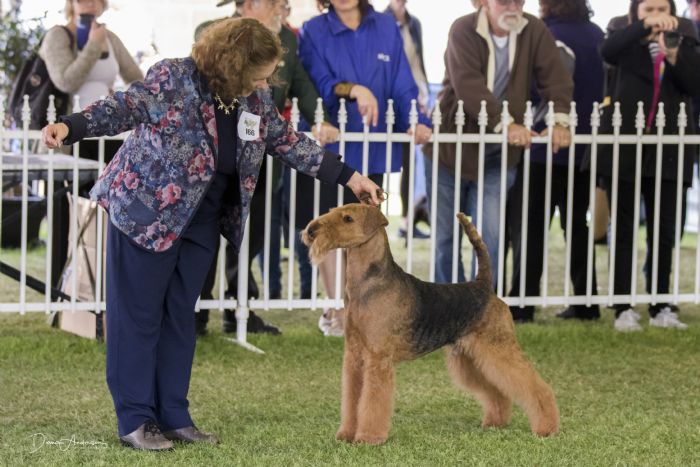 Anne & Danya taking Best in the Terrier Group at Perth Royal Show
At Melbourne Royal Show Danya's daughter Oldiron You only live once out did her father by going Puppy in show handled by Alice McGivenny-Harper. Emily Marshal handled Danya to Best of Breed and a finalist in the terrier Group.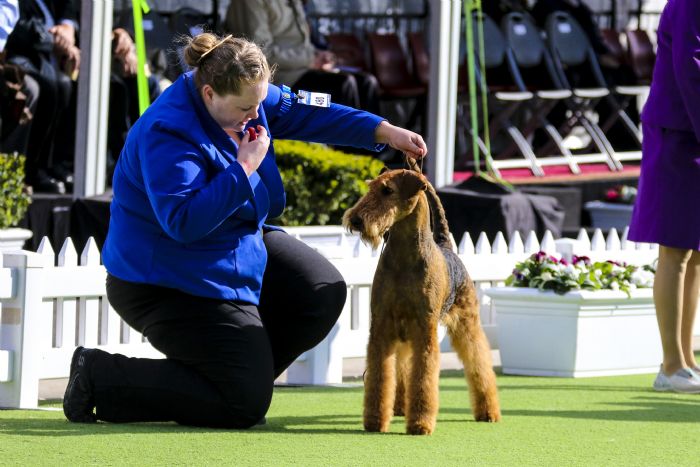 Alice &Yolo winning Puppy in Show at Melbourne Royal Show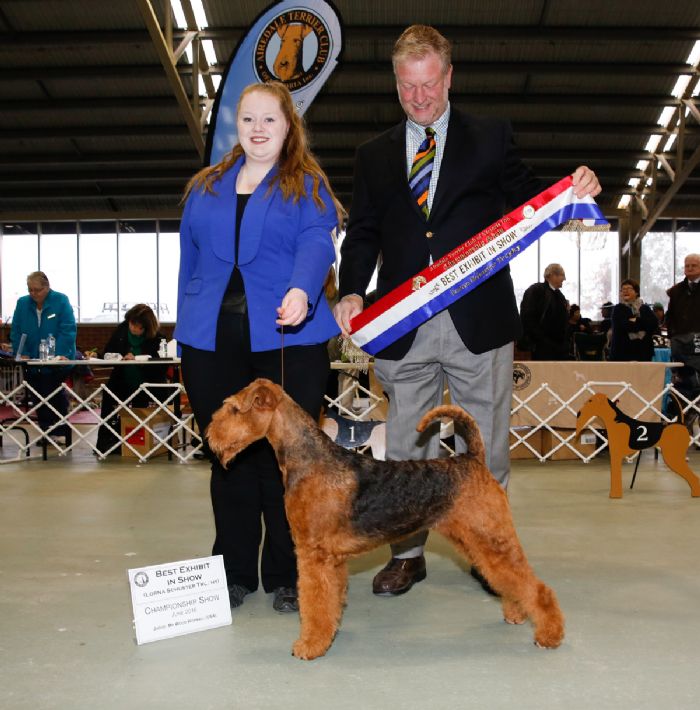 Flirt and Alice with Judge Wood Wornal (USA)
At the 2016 Airedale Club of Victoria Championship Show Mr Wood Wornal (USA) awarded Oldiron Airedales their 30th Best in Show at this show. 17 month Old Ch Oldiron Wolf Whistle (Flirt) took BIS from the Australian Bred Class superbly handled by 18 year old Alice McGivenny-Harper. All three Oldiron bitches entered won their class. Flirt was Puppy in Show at the 2015 Airedale Club of Victoria Championship Show.
Danya with Emily and occasionally Anne has had a spectacular first half of 2016 ending June as the number 2 Terrier in Australia. Along the way Danya has won 2 All Breeds Best in Shows, 5 Reserve Best in Shows, a BIS 3rd and a BIS 4th. Of the 14 Terrier Groups he has won 9 have been under Terrier Specialist Judges as have both his Best in Shows.
Danya at Sydney Easter Royal Show 2016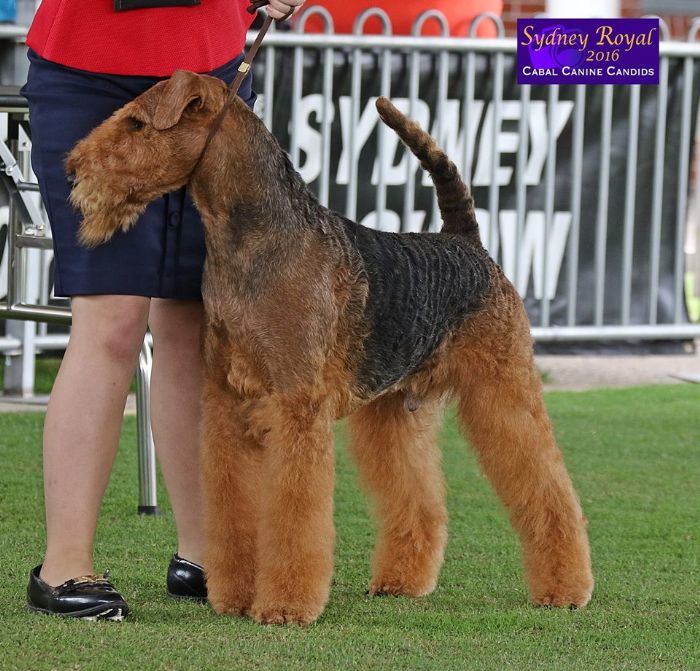 At the 2016 Sydney Easter Royal Show Danya was awarded 3rd in the Terrier Group by renowned UK Terrier Specialist Geoff Corrish.
28198 Visitors