2013 Show Results at September :

At just 20 months Millie (Ch. Oldiron One in a Million) won her first Royal Show group prize and Oldiron Terriers 50th by taking 3rd in the Terrier Group at the 2013 Adelaide Royal Show under Swedish Judge Karl-Eric Johannson.

Torch and Millie made it a clean sweep of the challenges at Airedale Terrier Specialty shows in Australia in 2013 when they were Best in Show and Runner Up Best in Show at the Queensland Airedale Specialty under US Airedale Specialist Marcie Zingler. This is the first time Airedales from the one kennel have won all three Airedale Shows let alone take BIS and Runner Up at all three.Torch's BIS was Oldirons' 40th Airedale Club BIS in Australia. Millie is the number one Airedale in Australia in both the All Breeds and Breed catagories of the Dogs Online Show Dog of the Year Competition.

On the long weekend in June Millie went BIS at the Victorian Airedale Club under Argentinian Airedale Specialist Julio Cristofaro (Fairylands Airedales) with her father Sup Ch Oldiron Flamethrower (Torch) Dog CC and Runner Up in Show. Millie made it a very memorable weekend by adding Runner Up in Show at both Victorian Terrier Group Specialty Shows. On Sunday under UK terrier specialist William Browne-Cole (Travella Wire Fox Terriers) and on Monday under ACTU Terrier Specialist Simon Mills (Clayco Smooths, Aussies and Jacks). Since returning from Sydney Millie now 16 months has added a further 4 Bests in Group and a Runner Up in Show. At 14 months month old Millie won BIS at the NSW Airedale Club Championship Show over Easter. The judge was NZ Terrier Specialist Diane Riley. She made it a double in Sydney by taking BoB at Sydney Royal.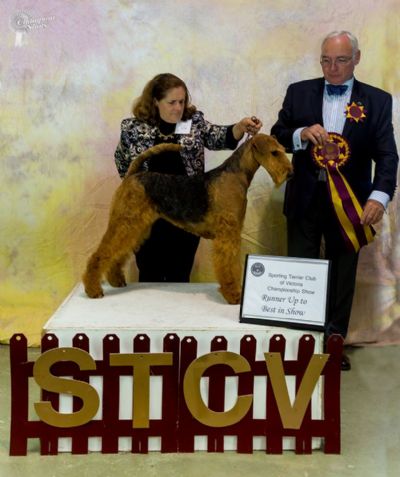 Ch Oldiron One in a Million (Millie)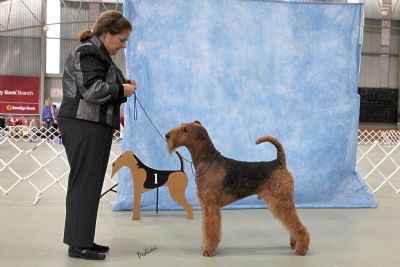 Sup Ch Oldiron Flamethrower (Torch)
ABOUT OLDIRON AIREDALES
Our current group of champion breeding dogs are all best or runner up in show winners at both airedale and all breeds shows. Oprah, Blanche and Boomer have also spent time at shows winning in Junior handler classes where the kids are judged rather than the dogs. The Airedales learn kids are much more fun and can handle them at important shows including Melbourne Royal Show
We do all appropriate health checks and of course our well fed Airedale babies are wormed, vaccinate and microchipped before they leave us. We give our Airedales their first trim free and are always available for help with grooming for showdogs. Before you even consider an Airedale for your family you must be sure you have TIME to spend with it.

We have had Oldiron Champions in six different countries and every state in Australia so sending healthy pups interstate is not a problem. We have a reputation to protect. American and Australian Champion Oldiron Margaret River became the Breed record holder (Biggest winning Airedale Ever) when she went to America. In Australia she was handled to many of her best wins including Top Victorian Terrier Puppy by 13 year old Claire Tyler.

We support Airenet, the tireless team that Rescue and Re-home Airedales in need. We intend that they should never be bothered with an Oldiron Airedale as we are happy to care for any of our dogs while we re-home them, if their owners should be unable to continue to care for them
13068 Visitors