The 'Rowanoak' Litter - 2014
Sub-links for this page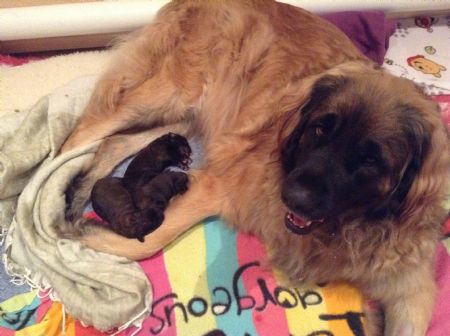 The 'Rowanoak' Litter
3 gorgeous puppies - 2 boys & 1 girl - born on 19th April 2014.
We are hugely indebted to Kerrie Port of Roanoak Leonbergers in Tasmania for letting us use the last remaining straws of semen imported by her many years ago, from the stunning & wonderful Dutch born dog - German & Netherlands Champion Rosaceae Leonurus. (Known to his friends as Rowan).
This is truly the third time lucky litter - the third time the semen was used in Australia, the third Dam for it to be used on & the end result - three beautiful puppies. It was the last of the semen - Rowan has since passed away - so no pressure !! We can't express the relief when the ultrasound confirmed that Rose was indeed pregnant & the sheer joy & exhilaration when all three pups were born safely.
All three pups will be genetically screened in the future in the hope that they can contribute their daddy's unique & valuable lines to the Australian & New Zealand gene pools.
Harry lives in New Zealand with our friends Fran & Rob. Luis lives in Tasmania with Lisa & Mark's lovely family and Aster lives here with us & her gorgeous mummy Rose.
Many, many thanks to Fran & Lisa for the recent pics of Harry & Luis.
There are not enough thanks in the world for our dear friend Georgia Hogg & her incredible talents as a photographer. Most of the baby puppy pics were taken by her. You can see more of Georgia's wonderful artistry at her website Georgia Hogg Photography
Contact Details
Graham & Lyndsay Clarke
South East Region, VIC, Australia
Email :
[email protected]