Orlagh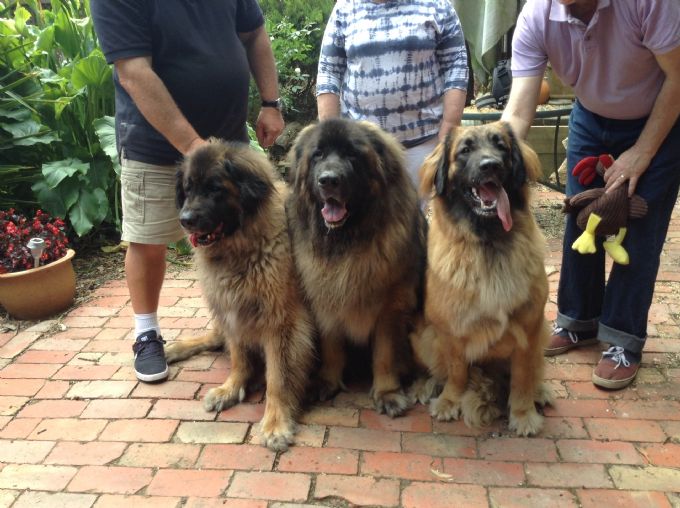 Leokings Jet Setter (Imp Ireland)
Sire: Irish Champion New Hope Vom Lowengarten (Imp Germany) - 'Yogi'
Dam: Irish Champion Enjoy First Class Ginger Heaven (Imp Poland) - 'Prada'
Beautiful Orlagh was born in Ireland on the 17th July 2014 & she was bred by Jacqui & Tom Stein of Leokings Leonbergers. After a very lengthy & frustrating delay (due to Australian Quarantine requirements & rabies protocols), Orlagh finally made the long, long trip out to Melbourne and arrived on 29th May 2015. After spending the mandatory 10 days in quarantine, Orlagh was released and finally joined our family on the 8th June 2015.
Sadly, Orlagh & our other young girl Aster took an instant dislike to each other from the moment they met. The situation escalated rapidly with one very nasty fight, that I was fortunately able to end without any damage to either girl or myself. We had to go to great lengths to keep the girls separated, effectively establishing two groups within our houshold. Unfortunately this type of hostility can occur when you introduce an older dog to an established 'pack' - especially so if the new arrival is dominant in nature. It was a very stressful situation and impacted on all members of the household. We sought the advice of trainers and behaviourists & tried several methods - none of which had any effect. After much discussion & several sleepless nights, we made the heartbreaking decision to rehome Orlagh with our good friends Judy Sinclair & Stuart Croft. It was a gutwrenching choice but one that we had to make for the safety & welfare of our other Leos and ourselves.
Judy & Stuart already have two Leos - Ben (near 10) & Molly (5). After a tense first meeting Orlagh started to bond with Ben & Molly. Now the two girls are inseparable - playing all day long - which Ben loves as he can now sleep on the couch all day without being pestered by the younger girls. The move to Judy & Stuart's home was perfect for Orlagh - she has blended into their family unit without any difficulty and has bonded really quickly with Judy & Stuart (to the point that Orlagh has become Stuart's shadow - follows him everywhere). A really happy ending to a very sad beginning for Orlagh's new life in Australia. A great result for us too as we still get to see Orlagh regularly and she comes to our house for visits (with Aster well & truly out of view).
Orlagh was health tested for breeding purposes but was found not suitable & has since been speyed. She will live out her life as an adored & very much loved member of the Sinclair / Croft family. Lucky girl !!!
We are very grateful to Jacqui & Tom for running Orlagh on for us and for agreeing to send her out to Australia. We are so sad that she couldn't stay here with us - living under our roof. However, Orlagh is still very much a loved member of our family, just living in another home. She is with a wonderful couple that she loves & is living a very happy life with her Leo buddies Ben & Molly - it's all anyone could hope for.
Pictured above - from left to right - Molly, Ben & Orlagh.
Contact Details
Graham & Lyndsay Clarke
South East Region, VIC, Australia
Email :
[email protected]