Mathilda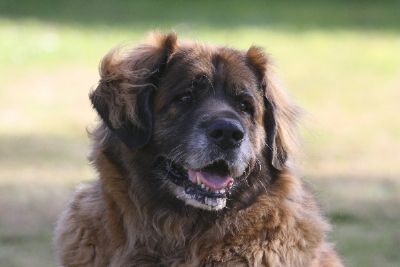 Mathilda
11th September 2003 to 6th June 2013
Gone to sleep aged 9 years & 9 months.
We love you, we miss you, we would give anything to have just one more kiss. Sleep peacefully beautiful girl xx
Tribute To A Best Friend

Sunlight streams through window pane unto a spot on the floor.... then I remember it's where you used to lie, but now you are no more.
Our feet walk down a hall of carpet, and muted echoes sound.... then I remember, It's where your paws would joyously abound.
A voice is heard along the road, and up beyond the hill, then I remember it can't be yours.... your golden voice is still.
But I'll take that vacant spot of floor and empty muted hall and lay them with the absent voice and unused dish along the wall.
I'll wrap these treasured memorials in a blanket of my love and keep them for my best friend until we meet above..
Mathilda was bred by Petra Hogberg & came from Lejonklippans Leonbergers in Sweden. She was born on 11th September 2003 and imported to Australia in January 2004.
Sadly, Mathilda was diagnosed with PPS (Posterior Polar Sub-Capsular) Cataracts in both eyes (more commonly referred to as 'Star Cataracts') and could not be bred from due to the risks involved.
Mathilda was a stunning girl, very loving and an absolute delight to share my life with. My close friends referred to Mathilda as the 'Pampered Princess' as she was very spoilt and had me wrapped around her little toe! (And what's wrong with that I say).
Mathilda was my first Leonberger and as such will always hold a very special place in my heart.
A true heart dog.
There are no words to describe our heartache & how much we miss our beautiful 'Princess Mathilda'
Rest in peace sweetheart - We love & adore you. Thank you for your love - it was priceless and irreplaceable. We miss you darling - sleep peacefully. xx
Contact Details
Graham & Lyndsay Clarke
South East Region, VIC, Australia
Email :
[email protected]