Puppy Waiting List Information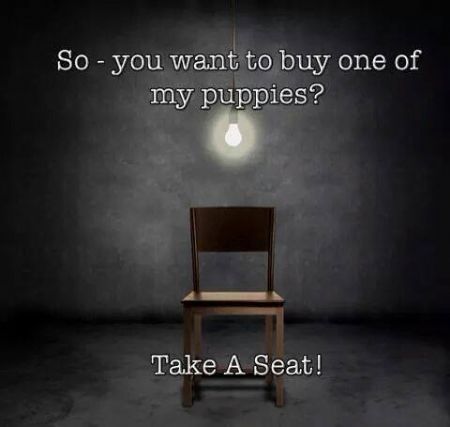 Anyone wishing to be considered as a potential home for one of our pups will be required to complete & return our questionnaire. To request a copy of that document please send an email to [email protected]
General Advice & Information
The Leonberger is a magnificent breed – they are very addictive – we should know with owning 6 of them, however, Leonbergers are NOT a breed for everyone. The Leonberger Club of America gives great advice on the reasons NOT to own a Leonberger.
The Leo coat requires quite a bit of work & they usually have 2 major moults a year – if you have never owned a double coated breed before it could come as a shock to see how much coat they can shed. Most Leos are also obsessed with water - even to standing in (& tipping over) their water bowls on a regular basis - not everyone can tolerate that. A young Leo left to their own devices can cause major damage when bored - we have the holes in our walls as proof!!
If you like a clean house then forget it – aside from the constant shedding of hair - come winter time the Leos best friend is MUD !! and loads of it.
Apart from the 2 major moults & the need to keep their ears clean to avoid problems they are not a difficult breed to care for. You need to start grooming a Leo pup from a very early age & make it a fun time. Also, trim their nails regularly from a very early age so that the Leo gets used to it. Nothing worse than wrestling a 60+ kg Leo & getting them in a head lock just so that you can brush their tail or trim their nails.
They make ideal family companions as they want to be with their family all of the time. If you want a big hairy shadow then this is the breed for you ! Leos are quite an intelligent breed and from a very early age will need basic obedience training & tons of socialisation (both canine & human). They can be wilful at times but training from the moment a pup joins your family should put a stop to any problems. They are definitely not the type of dog that can be left outside in the garden. They crave the companionship of their human family and can suffer from separation anxiety.
If you are looking for further general information on the breed I recommend that you go to the website for the International Leonberger Union.
Some things you need to consider when purchasing a pup,
Choose a breeder you are comfortable with & who will offer you lifetime support & assistance. The breeder should also be willing to accept the pup / dog back without question should your life circumstances change and you can no longer care for your Leo.
Only purchase a pup from a registered breeder (members of the State canine organisation with a registered ANKC breeder prefix). Those breeders MUST comply with ANKC and State member body codes of practice and responsible behaviour. Ask for proof of registration - don't just take their word for it.
Make sure the breeding pair have been health tested. Ask to sight or receive copies of the ANKC pedigrees, hip & elbow x-ray scores, eye test results & any other genetic screening the breeder claims has been done.
Ask the breeder why they are breeding their Leo(s) and what they hope to achieve from the mating. (ANKC registered breeders should only be breeding for the betterment of the breed – not just to sell pups). We breed for ourselves first & foremost & only when we are in a position to expand our own Leo family.
Responsible breeders should carry out the following genetic screening;
Hip & Elbow x-rays. The lower the score the better with 0:0 being a perfect result.
Only dogs with a clear eye result at the time of mating should be bred from. The breed is predisposed to certain eye conditions such as hereditary cataracts, entropian & ectropian.
Leonberger Polyneuropathy (LPN1 & LPN2) & Leukoencephalomyelopathy (LEMP) (DNA tests). In the case of LPN1 & LEMP, only dogs with a clear (N/N) result or a carrier (D/N) result should be bred from. However, if a breeder chooses to breed a carrier (a dog with a D/N result) it is acceptable at this stage PROVIDED they breed to a dog with a clear (N/N) result. With LPN2 the mode of inheritance is different and the researchers have recommended that only clear (N/N) dogs are used for breeding. It is our opinion that any breeder who fails to carry out the LPN1 & LPN2 test & the LEMP test on their breeding dogs is reckless & totally irresponsible. There is no cure for dogs afflicted with LPN or LEMP. Please refer to the University of Minnesota website for more info on these diseases & the testing procedures.
Please note that none of these tests are compulsory - it is up to each individual breeder if they wish to carry out any / all of the tests mentioned above. As a potential puppy buyer you need to take that into consideration when choosing a breeder. We test our breeding dogs for ALL of those conditions and will only breed from dogs with excellent & clear results. We also test any breeding girls for hypothyroidism (T4) prior to mating. We submit all of our test results to the International Leonberger Database for publication & will provide copies to all puppy owners.
Waiting lists for pups can be lengthy and particularly so if you are after a boy. In our case it's about the right home for the right pup. Just like our first litter nearly 6 years ago, we will raise the pups in our home and they will become a part of our Leo family until they leave us between 9 to 10 weeks of age. Raising the pups this way will allow them plenty of interaction with our older dogs, crucial in establishing social behaviour and will also provide them with constant human interaction.
At the end of the day though the most important factor in selection of a pup is the temperament of the parents. That is of the utmost importance in our opinion and if possible, prospective purchasers should try & meet both of the parents or the dam of the litter at the very least. Avoid breeders unwilling to allow you to meet their dogs. Understandably some breeders will be reluctant to initially invite you to their home but they should be happy to meet you at a local park or similar. Temperament is so, so important - male Leos can grow to a weight of 70+ kilos and it is crucial that they are loving, soft natured dogs as an aggressive or excessively timid / shy Leo can cause all sorts of problems.
All pups bred by us will be microchipped, wormed and vaccinated prior to leaving our home & they will be registered with Dogs Victoria on the Limited Register (which means they cannot be used for breeding & they can't be shown). We will consider joint ownership if you are keen to show but the Main Register transfer will be endorsed ' Not To Be Bred'. If you would like to be considered for one of our pups you will have to come to our home to meet us & you will also have to agree to sign a non-breeding ownership contract. A contract is nothing to fear – it's simply a safeguard to ensure the welfare of the pup. We provide our puppy buyers with a $200 refund once their Leo has been desexed. Not all breeders do the same, but that's what we choose to do as part of responsible breeding.
Re the price of puppies – We ask the same amount for each pup - whether he/she is going to a potential 'show' home or not. Our focus is on finding loving, responsible, forever pet homes. The price of a pup varies from breeder to breeder but usually somewhere within the $2000 to $3000 price range.
Re the desexing – It will be our recommendation to delay neutering / spaying up to 18mths of age but that's only our recommendation – he/she will be your Leo and if you want to desex him/her at an earlier age that will be your choice. It's just our view that the benefits to delay desexing a giant breed should be considered. In our opinion the reason to delay is the benefits of the sex hormones as the dog matures. Because early desexing removes the sex hormones, this can delay closing of the growth plates of the long leg bones – possibly creating leggy, taller than average dogs, which may increase the risk of some orthopedic conditions such as cruciate ligament disease & hip problems. No doubt your Vet will disagree entirely with our 'breeders views' but it will be your decision at the end of the day. Here is a website with info about delaying desexing.
Our Leo girls are family members first & foremost. They live in our home with us & are included in most of our social activities. Over the years we have met some wonderful people through our dogs and formed great friendships. We want our pups to go to similar homes – where they will be cherished members of the family and included in family activities.
Contact Details
Graham & Lyndsay Clarke
South East Region, VIC, Australia
Email :
[email protected]