About me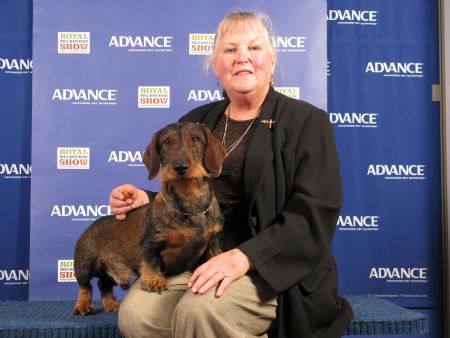 WITCHWOOD WIREHAIRED DACHSHUNDS
Est 1987 with the wires
Est. 1975 with the smooths
I started breeding the standard smoothaired Dachshunds in 1975, and breed them till about 1986, when I was able to finally obtain a wirehaired bitch to show and finally breed from. She was Ch Dalton Sea Revel and was the start of my love affair with this wonderful variety of Dachshund.
I mated her to a handsome male who had come from England with his owner. He was Ch Peregrine Rimalis (imp UK). I kept a male from this litter, and he was a lovely boy who was Ch Witchwood Briar Fox. He was a very smart boy in the ring, and he started catching the eye of the judges, sadly I was never able to get puppies from him.
Over the years I bred dogs from English and Australian lines till I finally brought in a dog from New Zealand. He was NZ Ch.& Aust Ch. Pebbleridge Hot Wired (imp NZ) bred by Annette Thomas & Ann Stewart. He was of English and Scottish breeding. This boy proved to be a fine stud; producing many lovely puppies over the years.
Then in 2001, when I had come to the end of the line for breeding choices, with no new blood coming into Australia, I was given the chance to obtain an American boy. He was Ch and Am Ch Char-Dachs Too Legit To Quit (imp USA) aka Hammer. This was the start of a new era for the Wires here in Australia as at the same time two more American Dogs arrived in Australia, giving us Wirehaired breeders more choice than we have had for quite some time.
Hammer has been the mainstay of my breeding over recent times, and now his kids and grandkids have established my breeding lines. I now have a new boy bred by Brenda Gale of Wyredachs kennels in NSW from American parents imported from Raydachs Kennels. He is Wyredachs Maximum Xposure.
This will ensure that I will be able to continue the breeding of my wires, for health, temperament, good coats, and an ability to do the job they were originally bred for
HUNTING.
Contact Details
Margaret Willox-Jones
Torquay, VIC, Australia
Phone : (03)52614825
Email :
[email protected]