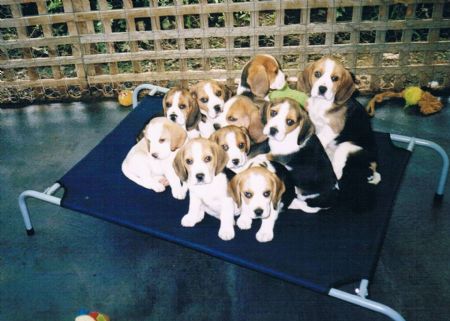 I have had and shown Beagles for 15 years. My prefix "Teviotdale" was an easy choice for me as my parents loved this area in the Border Country in Scotland.
I did have a Beagle when I lived in the U.K. and brought him to Australia when I came over in 1985. Jodie was a very special dog and was very much loved. He died at the age of 15 1/2.
My first Australian Beagle I bought and still have is Kate and her pedigree name is (Ch) Jansline Crystal Diamond. I have to say a big thank you to Sue and Steve for my very special girl. Kate was the start of my breed line and her progeny have done her proud. My Beagles are very much family house dogs. My main aim has always been to breed dogs of sound temperament to enable others to enjoy the pleasure of owning one of these special hounds.
Please call back soon, as my website is currently under construction, and more pages and photos will be added shortly!
Contact Details
Faith Brawley
Castlemaine, VIC, Australia
Phone : (03)54706998
Email :
[email protected]
00009937 Visitors