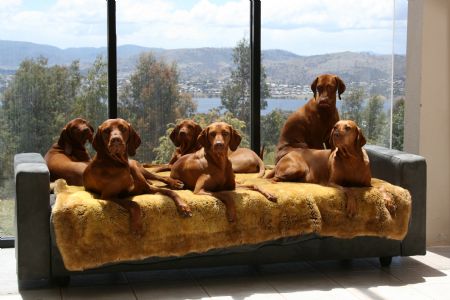 THE BOKEZU FAMILY
Update*
I have not updated this website since 2013
Since the Bokezu Te Poro litter in 2013 we have
had the Jularo litter in January 2016 and the Jultar
litter in October 2017
please follow our Facebook Page
"BOKEZU HUNGARIAN VIZSLAS"
for latest news and pictures
https://m.facebook.com/BokezuVizslas/




Welcome to Bokezu Vizslas, we are a small kennel in Granton, Tasmania, (Aus) where our 7 dogs are all pets first and foremost, they are not kennel dogs......all live with us inside. We bought our first Hungarian Vizsla (Chloe) as a pet 13 years ago, sadly Chloe passed away aged 11 in December 2011. We fell in love with the breed because of her, and will always remember her as the perfect Vizsla, big thank you to Robyn and Phil Ellis of Tazlon Kennels for allowing us to have beautiful Chloe. We own 8 Vizslas at present and have shown 7 to Australian Champion title. We own Vizslas because we love their company and wonderful personalities, life would be very dull without them now! We place equal emphasis on health, conformation, temperament and working ability, not to mention classic Vizsla "type" and beauty. We breed to improve the breed. We have just imported a young boy from Hungary to add new blood to our lines. We have had 4 litters in the 13 years we have been involved with the breed. Our dogs all have a strong hunting instinct and love to hunt the wallabies and rabbits that come on to our property at night, and the occassional possum.
I am very proud of all my dogs, and like wise very very proud of the four litters my dogs have produced so far, they have all been amazing puppies growing into beautiful dogs, with wonderful temperaments, and much loved by their new owners.
We live in Tasmania on a few acres and it is perfect for these dogs to run free when we are home. We breed versatile gundogs....... Vizslas are HPR dogs (hunt-point-retrieve) who make amazing family pets. Vizslas love being a member of your family, and doing everything that you do, only with 50 times more enthusiasm!!
When we sell a puppy we are there for the new owner for the entire life of the puppy, to help in whatever way we can to answer questions etc... our dogs are all hip and elbow scored using Dr Wyburn WA.
A Vizsla is not for everyone. They have certain needs, like being part of the family, living in your home, not outside in a kennel. They have a very strong desire to please their owners and to be your shadow. They have a very high energy level and need to have daily exercise and not just a quick walk around the block. They need room to run, frolic and chase things, and they love to swim. If treated right, the Vizsla will be your life long companion, hunting partner, and very special friend. If treated incorrectly, you could end up with a very sad and frightened animal, or on the other side, a very unsocialised aggressive dog. This applies to any breed of dog . No dog should have to live their life outside without the proper "people interaction" This life is NOT for a Vizsla. Vizslas are great with kids, cats and other dogs with proper introductions and supervision. Vizsla puppies are just like any other puppy, they like to chew, bite, scratch, jump up, tackle and can get a bit rough with small children. They will "counter surf", steal, take over your favourite chair and your bed! They will fill your life with joy, unconditional love, and shower you with kisses everyday of their life! Vizslas are very intelligent, affectionate, have very wiggly butts and a personality all their own. I have never met a boring Vizsla, their tails can go from 0 to 100 in .03 seconds. The expressions they have and things they do make me think they are the clowns of the dog world, they love to hear you laugh at them, it actually encourages them! The Vizsla is an easy dog to train with positive reinforcement methods and consistency. This breed certainly have a wonderful sense of fun, they are a joy to own.
We now have our own facebook page where you can comment and ask questions
a lovely quote from Miklos Farkashazi from the Matai Kennel, Hungary, who has been involved with the breed for over 50 years, referring to the correct colour for a Vizsla........
"it does not matter if the roll is mildly or well baked, if the dough is good, the result is good too"
The breeds human loving nature, elegance, intelligence and amazing gaze, are more important than the colour tone
WHEN GOD CREATED THE VIZSLA HE DID SO WITH HIS TONGUE IN CHEEK.
HE MADE A NOBLE, BEAUTIFUL, AGILE, LITHE, AFFECTIONATE AND INTELLIGENT DOG. HE GAVE HIM THE EYES OF A HAWK, THE NOSE OF A BLOODHOUND, THE SPEED OF THE WIND AND MOUTH OF VELVET. HE INSTILLED AN IMMENSE AND URGENT ABILITY TO WORK. AND THEN FOR FUN HE THREW IN A PINCH OF "WILFULNESS" AS IF TO CHALLENGE MAN WITH THE PERFECT SHOOTING COMPANION PROVIDING HE HAD THE PATIENCE AND CHARACTER TO BE MASTER.
FROM "THE HUNGARIAN VIZSLA" GAY GOTTLIEB
Contact Details
Denise and Kevin Shearing
Granton, TAS, Australia
Phone : mob 0418 985 075
Email :
[email protected]
27634 Visitors